Guest Experiences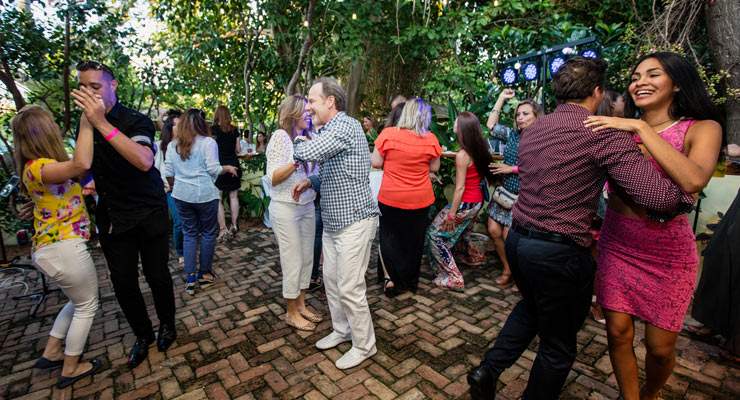 "I wanted to take a few minutes to express our heartfelt "thanks" for the wonderful job your team did on our wedding on June 24th.

I especially wanted to recognize Tom for the fantastic job he did to make our night so special.

Not only did he make sure that every detail was covered, he truly cared about our event and everyone who participated.

From the planning to the small details, he was spot on. Even when my wife was taking pictures and about to turn into bridezilla from the heat, Tom noticed this and ran right over to her with a drink and appetizers.

He is a true professional and you are lucky to have him. Being in the biz, we all know how hard it is to find genuine people and I am so glad we made the choice to have our wedding at the Sundy House.

We received so many compliments and the night went off without a hitch. I also wanted to recognize our Captain (I forget his name) who was also a true professional.

Thanks again and it is good to know that there is such great venue practically in our backyard which we will highly recommend to anyone looking to get married.

See you for brunch soon!"
– Stuart S. Levy, July 11, 2016
We were originally scheduled to have our wedding on Oct 8th but a little hurricane named Matthew had other ideas. Tom and his team made the hard call 4 days before to cancel events. Although we were very disappointed that we weren't going to get married then, it was absolutely the right call for the safety of his staff and of our guests. Tom was a dream come true! His calm demeanor and obvious expertise was reassuring and welcome. But this belays his absolute warmth and humor that kept everything fun and not so serious. Hey, it's a wedding! Everything should be fun! He had exceptional attention to detail and him and his staff went above and beyond to help us get ready on the day (take two was on Jan 21st). We had no worries at all. He clearly loves what he does. The Sundy House is an unimaginably beautiful location for a wedding and no event was too small to receive top-notch service. We had 28 people by the pond for an 11am ceremony and people were just in awe. Many South Florida residents didn't even know it was there! The scenery and the indoor rooms really didn't need much decoration. The food was well prepared and very flavorful (we had the yellowtail snapper and the NY strip). The bartender was a fun part of the experience. My now-husband asked me a few times if we should cut the cake. I didn't want to because that's usually the time people leave. I didn't want it to end! About the rooms, OMG, you can't go wrong. To all you brides, get the honeymoon suite called Royal Poinciana. It's an adorable cottage with full kitchen, living room, huge luxurious bedroom, 2 baths and plenty of room for all the people you'll have coming and going. If I could, I would do this every weekend! Thanks to the Sundy House, Tom and all the friendly staff!
– Amanda, January 21, 2017
Want to share your Sundy House experience with us? Please contact us.